Panathinaikos Spanoulis shirt, worn Euroleague 2009/2010
Miss out?
Another unique item may be just around the corner!
Contact us
We accept
The Prize
Aggiudicati la maglia da basket del Panathinaikos indossata in occasione di un match di Eurolega 2009/2010 da Vasilis Spanoulis, cestista soprannominato "Kill Bill" che ha giocato nella squadra greca dal 2007 al 2010, dopo aver giocato in NBA, a Houston e San Antonio.
I numerosi titoli nazionali e internazionali ottenuti dal cestista, sia con i club in cui ha militato che con la Grecia, fanno di lui uno dei dieci migliori giocatori europei degli ultimi anni.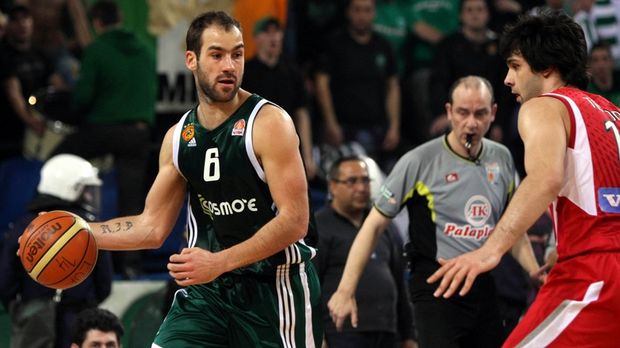 Caratteristiche:
- Maglia da basket verde indossata da Spanoulis
- Stemma del Panathinaikos ricamato sul fronte
- Sponsor Adidas
- Tecnologia Climacool
- Nome e numero applicati in plastica sottile
- #6, taglia M
---
Punta ora e aiutaci a sostenere il progetto benefico di Slum Dunk.
---
Scopri inoltre il nostro nuovo shop: completa il tuo acquisto scegliendo le soluzioni migliori per conservare ed esporre al meglio il tuo stupendo oggetto . Clicca qui.
---
Condizioni: L'aggiudicatario verrà avvisato tramite email e riceverà l'oggetto entro 7 giorni lavorativi dalla chiusura dell'asta. Hai dubbi? Scrivi a info@charitystars.com o chiamaci allo 02 49762138.
Live a Dream, Make a Change
This auction is subject to a Buyer's premium related to the online sales platform that you're using. This Buyer's premium includes sourcing of the lot, evaluation of authenticity, storage, sales activity and customer support. The minimum Buyer's premium for this lot is €9.95.
The total cost for this lot does not include shipping costs, which are not specified until auction closing and vary according to the size and weight of the item, as well as the recipient's address. The minimum shipping cost is €19.95. Tickets, vouchers and goods are generally shipped via courier and must be signed for on delivery, unless otherwise stated. In some cases tickets will be left in the auction winner's name for pick up at the ticket office of the event location.
How can we help?
Have a question or need more details? Click below to be connected to our customer service team.