Auction
Nedved match worn shirt, Unesco Cup Juventus-Real Madrid 2/6/2014
The Prize
Pavel Nedved's Match Worn Juventus Shirt
This shirt was worn by the ex-Juventus player during the UNESCO Cup on the 6th of February, 2014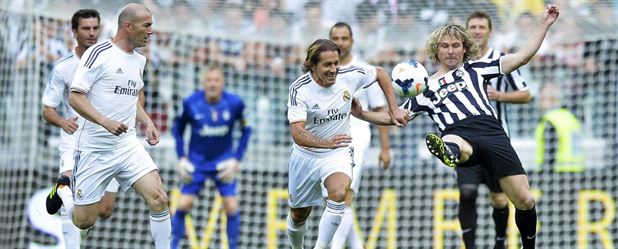 Features:
- Match worn Juventus jersey with short sleeves
- Player autograph on the back
- Juventus crest and shield embroidered on the chest
- Special Juventus Legends patch applied on the left sleeve
- Unesco Cup badge applied on the right sleeve
- #11 - Size L
Giorgio Chiellini has decided to auction this shirt in aid of ASD Total Sport.
By bidding on this auction you too can help support a good cause
The Cause
Insuperabili Onlus is a new organization for promoting sports among special needs children, started in Turin. Its team of experienced professionals is constantly engaged in the promotion of team sports like soccer to help children overcome cognitive, relational, emotional, behavioral and physical challenges.
A network of Soccer Schools - known as Insuperabili Onlus Academies - has been created throughout Italy. It aims to spread its philosophy and work methodology by guaranteeing a quality service for children with special needs directly in their cities. During the soccer season there's a strong relationship with the Academies thanks to the constant training of the Total Sport technical team. Small groups of 15-year-old boys and girls are supervised by technical and psychological head coaches.
Additional Details
Shipping
Talk To Us
For any questions, please get in touch
and we'll get back to you shortly.
Send message
Shipping