Henry's Arsenal match issued/worn shirt, Champions League 2005/2006
Miss out?
Another unique item may be just around the corner!
Contact us
We accept
The Prize
Henry's Arsenal shirt!
This auction is for the away Arsenal shirt issued for/worn by the legendary French striker, Thierry Henry, while playing for the Gunners in a Champions League 2005/2006 match.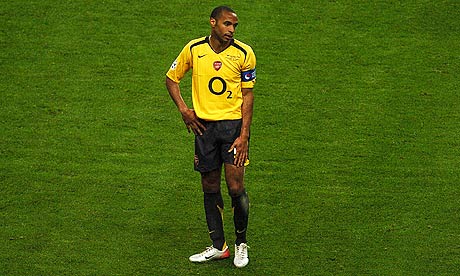 Features:
- Yellow away issued/worn shirt with short sleeves
- Arsenal crest on chest
- UEFA Champions League patch on right sleeve
- Name and number applied in thin plastic
- #14 - Size L
---
Best Memorabilia have donated this item to support Centro Dino Ferrari who will receive 20% of the final auction price
---
Check out our shop and choose the best way to display your memorabilia. Click here.
---
Conditions: The auction winner will be notified via email and will receive the item within 15 working days of payment being received. Need more information? Email info@charitystars.com or ring us on 0203 301 5800.
Live a Dream, Make a Change
This auction is subject to a Buyer's premium related to the online sales platform that you're using. This Buyer's premium includes sourcing of the lot, evaluation of authenticity, storage, sales activity and customer support. The minimum Buyer's premium for this lot is €9.95.
The total cost for this lot does not include shipping costs, which are not specified until auction closing and vary according to the size and weight of the item, as well as the recipient's address. The minimum shipping cost is €19.95. Tickets, vouchers and goods are generally shipped via courier and must be signed for on delivery, unless otherwise stated. In some cases tickets will be left in the auction winner's name for pick up at the ticket office of the event location.
How can we help?
Have a question or need more details? Click below to be connected to our customer service team.